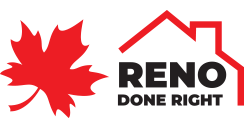 Are you a homeowner looking to have your dream home built? Or, maybe you are a real estate developer searching for a reliable construction company to help manage your new construction project.

Regardless of why you need a new house built, there are only two elements required for gaining successful results: It requires a good construction company that not only possess the skill and know-how, but they must also use the best products and services that are delivered promptly, and it requires careful coordination. You also will need a highly-skilled team like Reno Done Right to get the job done efficiently.

Homeowners and real estate developers choose our construction company because we meet the home builder's schedules, and we complete our jobs accurately.

When you choose Reno Done Right for your new home construction project, you will experience superior craftsmanship in a timely manner.

When it comes to building a new house, you will need to work alongside a construction company that specializes in building 'new homes'. Home construction is one of our specialties.

Unfortunately, not every construction company is created equal. When you choose our construction crew, you will rest easier because we will not only completely beautify your home — you will get the most value possible per square footage.

Building a home should never be taken lightly — it is a substantial investment. Choosing our team for your next new construction project is well worth the investment.


Schedule a Free No-Obligation Appointment Today
If you have a new home construction project, we can help. Contact us by giving us a call at: 855.999.7444 for a free consultation and a quote.