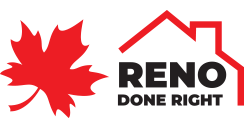 After Construction Clean-Up
After a residential or commercial construction job is completed, a living area (or working space) can look like it has been ransacked with debris. Following a construction job, you will want to make sure your home or building is cleaned and prepared to move in and start setting up.

Reno Done Right construction professionals will make sure your home is thoroughly cleaned, inviting, and livable. For commercial buildings, we will help you prepare your business to open or re-open.

When you first step foot onto your newly remodeled room or place of business, it should appear the way you envisioned it to look — minus the debris left over from construction workers and contractors.


Our After Construction Clean-Up Service
We provide the following construction clean-up services for residents and businesses:
- Cleaning lights
- Dusting window sills
- Cleaning cabinets
- Vacuuming carpets
- Dusting air diffusers
- Spot cleaning walls
- Interior glass cleaning
- Cleaning and polishing bathroom fixtures
- Damp mopping or dust mopping hard surface floors
There is more — these are just a few services we provide for homeowners and commercial property owners.
Schedule a Free Consultation
Give us a call today at: 855.999.7444 for a free, no-obligation consultation and an estimate.